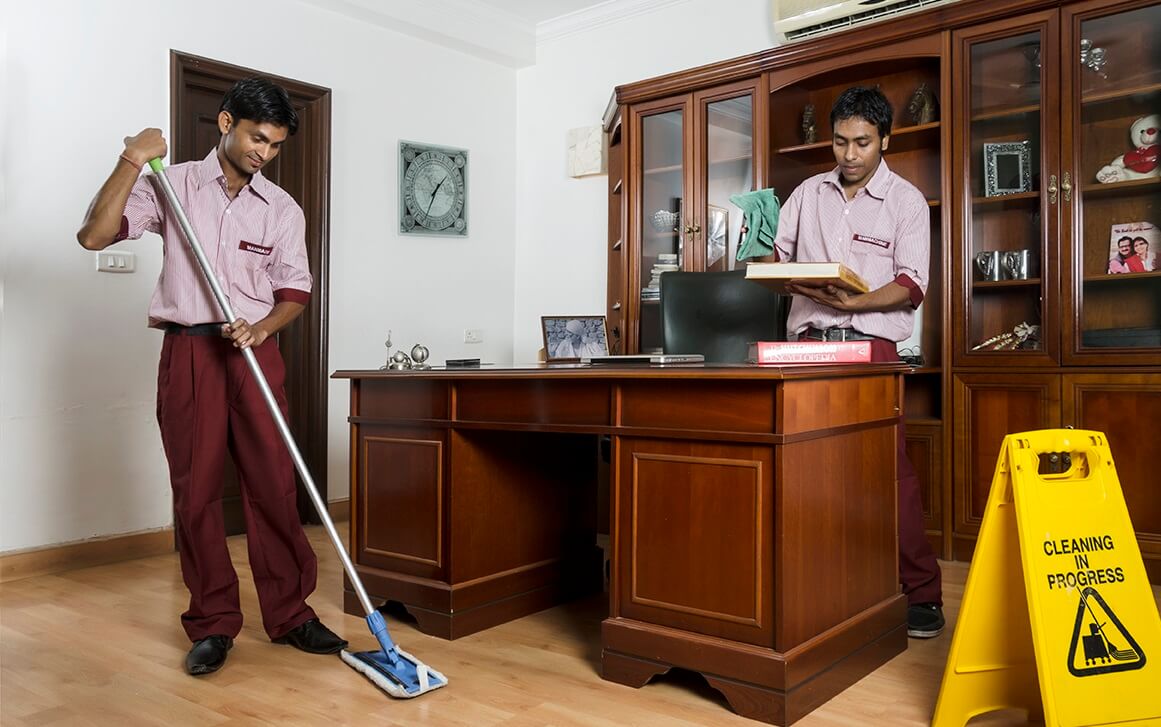 We "AUXWELL GLOBAL" are the first choice of companies looking for housekeeping services at the best level. We serve our clients with absolute integrity and professionalism. Our services stand apart from others because we take the time to understand the specific requirements of every client and use our experience, expertise, and resources to deliver the best. We are proud to have set the benchmark for excellence in housekeeping in the industry.
Most organizations spend intensely on framework and insides of their workplaces yet don't view cleaning and upkeep appropriately; frequently entrusting the assignments to rank beginners. This can prompt the quick crumbling of looks and resources. Novices utilize low quality materials and untalented work further adds to the crumbling looks of insides and premises. That is the reason it is critical to utilize the administrations of talented and qualified experts who are specialists in housekeeping.
Auxwell global Personnel Vision has the housekeeping arrangements you need to keep your office and business premises fit as a fiddle.
We work in office cleaning and business cleaning. Our standing has been cautiously and carefully worked with the difficult work and devotion of our prepared staff. We rigorously utilize the best quality materials explicitly picked for each undertaking. We center around both visual and sterile cleaning. You can pick our administrations for every day, week by week, and month to month cleaning.
Auxwell Global ensures that protected, synthetic free, and harmless to the ecosystem cleaning materials and cycles are utilized. You can make certain of a perfect, earth free and poison free encompassing in your office when you pick us for your housekeeping needs.
Housekeeping is basically the organized process of transforming a home or an office into a neat and orderly manner. Moving into a new office brings on lots of stress, packing boxes, labeling the right items to pack, and a lot more. Cleaning the new office can be taxing and demanding except you are the type that finds delight in cleaning – you definitely will be preoccupied with other things you could get done especially if you are still working during the transition. Housekeeping services take off the stress and help to feel at ease and more concentrated on tasks that need your complete awareness. 
Housekeeping services can be in various forms, you could hire a single cleaner, or sign a cleaning contract with an Integrated Facility Management Company that provides cleaning services. In some cases, knowing the right option of housekeeping services to engage in for the office, especially a new office can be tough but really, there are some things you can consider; 
(i) how large the new office is, 
(ii) how often and efficiently do you want the office cleaned, 
(iii) flexibility and if you traveled, how well will they be consistent with making sure the office is clean. 
Housekeeping services can make transitioning into a new office relaxing in ways like:
1. It can give the new office a positive and astounding professional image and impression
Probably, your moving into a new office is associated with the fact that your old office isn't looking professional enough, relax, feel at ease, engage housekeeping service and a good integrated facility management service, and watch out for the transformation. 
Walking into an office of business with stained carpet or rug, dusty desks around with unpleasant smell within the office gives the impression of your office offering poor-quality services, compared to walking into an office looking utterly pristine with fresh good scents and clean creates a subtle impression to clients, customers, even people visiting your office, adding to the confidence they will have in your business. The state of the image projected by an office to its clients also plays an important part in the success of the operations performed in your office.
2. It can boost morale in the office
The old office might have affected most of the employee morale, working in a health-risk environment can be a morale killer for any employee, moving into a new office space with a facility management services will be a good idea with housekeeping services making sure you have a disease-free office space, reducing sick-days and spreading of diseases. 
When employees work in an office environment with clean and fresh smells, it gives a sense of morale and boosts responsibility, alerting them that the activities in the office should be done passionately, employees will want to dress professionally and appropriately for the new office making your business grow. It is no secret, happy employees attract good business. In a way, housekeeping service has made your move into a new office easier and grown your business. 
3. Housekeeping service makes moving into a new office easy helping in the management of work and life
Looking at a clean office space gives positive views on life and sometimes gives the right thinking and ideas. Signing an integrated facility management service will increase the work output of the employees especially with moving into a new office and after being trained to respond to emergency situations and environment. Their work would become easier with facility management service responding to their security, health, and safety issues. Giving them confidence and trust in the office they work in. 
Every office should have housekeeping management. Housekeeping management is like the nerve center to ensure a smooth work experience and making housekeeping services possible. Housekeeping management will be in charge of setting up the office in an orderly manner daily, knowing the best products to use to get the best result, having the knowledge of the best equipment to source and make the office conducive, and other skills to make your office space the very best it could be, it only has to down to you making your housekeeping management know what you want and need from them to make your office be in best appearance.